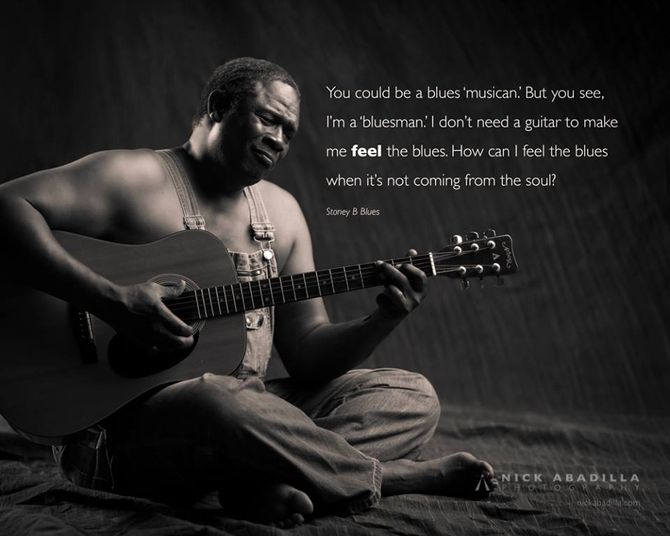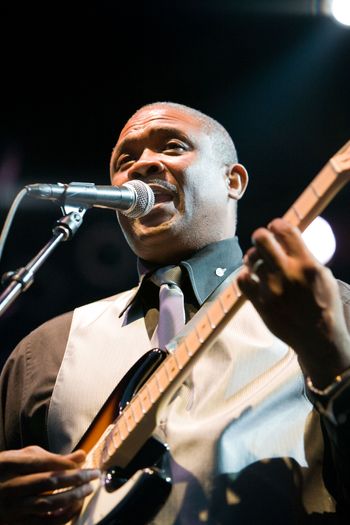 BIO:
Stoney B is the real deal, a true Blues Man. He was born in Chicago. He grew up listening to his father, Lil' Howlin' Wolf, playing the Blues and his dad learnt his Blues from the Chicago Blues Legend, Howling Wolf. During Stoney B's career he has played behind well-known Blues Musicians such as Buddy Guy, James Cotton, Junior Wells, Koko Taylor, Johnny Guitar Embry and the Blues Kings, Son Thomas, Homesick James, Lovie Lee, Roosevelt Boobie Barnes and Willie Mississippi Foster.
He has come to California by way of the Southern states where he spent most of his time in New Orleans. There he played for 14 years in the clubs along Bourbon Street and in a well-known partnership as a street musician with Grandpa Elliott. The 'Stoney B and Grampa Show' entertained thousands of people and is talked about all around the world. After Hurricane Katrina Grandpa Elliott went on to play for the international touring act 'Playing for Change'. 
In 2023, Stoney B, with over 50 years of experience has become a highly accomplished Guitarist, Vocalist, Songwriter and Recording Artist of the Blues. He feels and shares at a soulful level the essence of the Blues with strong influences from Muddy Waters, BB King and Jimmy Reed.
The Band delivers an outstanding Blues Show of Chicago and Southern Style Blues played by Masters of the Blues. Stoney B's soulful licks and brilliant guitar riffs and his dynamic vocals will transfix you as he delivers heart and soul felt Blues. 
Look out people…Stoney B Blues and his Band will grab your attention, keep you listening, laughing, dancing and wanting more. That is why this is a Blues Experience that's got people talkin' …..
ENDORSEMENTS:
I've known Stoney B since the early 80's when I was still playing with Willie Dixon.  During that time I was also playing a lot with Stoney's father,  "Little Wolf", who was (and still is) one of the best interpreters of Howling Wolf's style.  Stoney B was a young fiery guitar player and credible singer even back then.  Over the years he has matured into a fine seasoned blues veteran.  He certainly is worthy of more recognition. If you have the opportunity,  I recommend checking out Stoney B Blues.  He is the real deal.
Billy Branch
Stoney B Blues,
It has been an honor being your Dad. Stepping in my shoes through your music, my soul has truly been blessed knowing that you are carrying on my legacy. For many years your music has allowed you to travel cross country and successfully entertain people
Son, I cherish our time we shared together and the moments we have enjoyed with the blues and that we both have the Blues to the bone.
Go forth boldly in your blues world, your music has kept us going when you didn't have anything else, this is your season.  You go beyond your job stretching yourself to please and make your audience feel good.  
Stoney B, those you meet along the way are touched by your singing plus you are one of the most influential Blues Guitarist around.
I personally want to thank you for standing in the gap for me since I am not able to do this work anymore.
Best wishes in your future, you have my Blessing, your Dad,
Lil Howlin Wolf.
VENUES PLAYED:  
Since his arrival in San Diego in 2010:
2011 & 2014 Opened for BB King at Humphrey's Concerts By The Bay
2011 - Julian Blues Bash 
2011 & 2012 – Brea Jazz Festival
2012 – Opened and hosted the Orange County Film Festival; Baja Blues Festival; Spring Harp Fest; Adams Avenue Street Fair; Ocean Beach Street Fair
He has also been a featured artist with Grandpa Elliott at the Washington Parish State Fair in Franklinton, Louisiana for 12 years and played with his Band there in 2011 and 2012
2013 –Calgary Blues Festival - Canada Performed his "Big Sweet Daddy Peaches Show" at Temecula Old Theater, Escondido Performing Arts Center and the Saville Theater in San Diego
2012 and 2013 - Gator By The Bay - San Diego
2014 - New Blues Festival - Long Beach 
2015 -Tijuana Jazz Festival
2018 -Temecula Blues Festival 
2019 - Stoney B and Karl Dring were invited by the US Embassy to represent American Blues at Colombia's Art and Cultural Blues Festival
Stoney B is the founder and host of San Diego's Blues Summit, which he began in 2012. His band has performed at many Summer Concerts around San Diego County every year until the Pandemic. Some of these include Balboa Park Twilight Series; Santee Blues & BBQ; Trolley Stop North Park; El Cajon; Poway; TGIF; Pacific Beach; San Diego State Fair; and further north at Fullerton Summer Concert; 
His Band has played locally at many venues including Pala Casino; Santa Ysabel Casino; Humphreys Backstage Lounge; House Of Blues; Temecula Blues Club; Patricks; Hennessey's Gaslamp; Gaslamp Speakeasy; Hooleys Irish Pubs; The Riviera Resort Palm Springs; Kona Kai; Miramonte Winery Temecula; Lorimar Winery Temecula; Olde Ship British Santa Ana; ABC in LA
The Bands CD releases in 2011 and 2012 were nominated for the Best Blues CD in San Diego Music Awards in those same years.
 If you are looking for a Blues Band that plays variety with great entertainers and excellent musicians this is the Band for you.
Blues lovers in San Diego have come to realize just who Stoney B Blues is: A blue blood musician? For sure. An entertainer and crowd pleaser? Most definitely. A talented ambassador of the down home blues? Without question. 
REMEMBER: 'You can' t lose with the stuff we use when we are playing the Blues'
Enjoy yourselves downtown for an up close and personal show. Stoney B plays the Voodoo Stage at the restaurant.
Playing the Blues for each and everyone of you!
Look out Temecula. Stoney B is not only entertaining he is a great real blues man. He will have you dancing, feeling the music and wanting more!
Sign up for our mailing list!